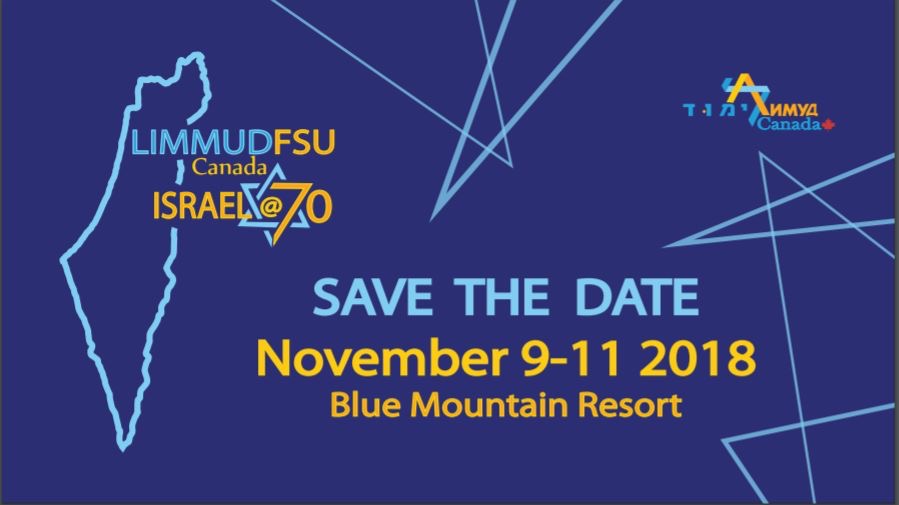 Limmud FSU Canada Fall 2018!
Do you want to connect, learn, expand your knowledge, and explore your roots in an environment of knowledgeable presenters, intellectuals, and performers? Please join us November 9th-11th at the beautiful Blue Mountain Resort to experience a unique event that covers wide-ranging topics in politics, history and religion, arts and culture, business, science and technology, music, and dancing.
The innovative event gathers the local and global Jewish community for a weekend of unforgettable excitement and learning. It is no wonder that 80% of participants come back to Limmud after their first conference! The truly interactive sessions we offer stimulate the mind and allow for true connection. Whether you are interested in DIY workshops, lectures, Q and As, or networking, we invite you to participate in an immersive and captivating conference. New for this year is a special program for Young Professionals ( special speakers and activities ).
Run exclusively by volunteers who are truly passionate about Limmud FSU Canada, this conference allows for individuals and families to connect to the greater Jewish community.
We invite you to look at previous conferences, schedules, and presenters to show you what Limmud FSU Canada is all about (under the section "Event Details").
Please join us at Limmud FSU Canada 2018.
January 18, 2017

Limmud FSU (FSU stands for Former Soviet Union) is an amazing opportunity. Having attended seven conferences so far, I can say with certainty that Limmud is right for you. By that I mean that these educational events allow any Russian-Jewish person to feel a part of the community. And the broad range of simultaneous activities […]